Michael F. Nozzolio '73: ILR-Educated Legislators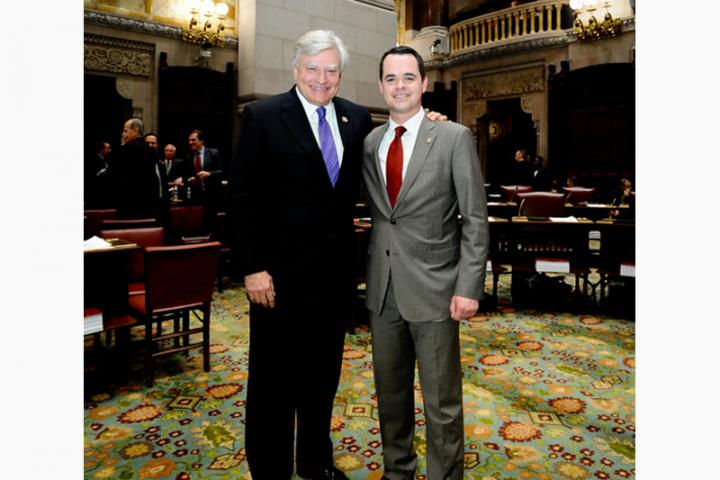 New York State Sen. Michael F. Nozzolio '73 says, "The ILR School provided me with an excellent foundation to establish my life's work."
The Republican's 45 years in public service — 34 of them as a New York state legislator with 17 consecutive election victories — are rooted in his time at ILR.
Nozzolio was selected to work for a committee led by former ILR Dean Martin P. Catherwood as it examined the New York State Public Employees Fair Employment Act.
"I was chosen to serve as M.P.'s legislative assistant, and this provided me with the tremendous opportunity to work by his side every single day for two years. M.P. Catherwood gave me the greatest education on New York state government, history and politics that I could have ever had."
"M.P. became one of my early mentors, and this was while he was a living legend, after he had retired from the ILR School, and the library in Ives Hall had already been named after him."
Encouraged by Catherwood to deepen his policy knowledge after graduating from ILR, Nozzolio earned a Cornell master's degree in public administration and agricultural economics in 1977, before graduating from Syracuse Law School and running for office.
"M.P. gave me a very New York state-oriented focus, which proved the perfect foundation for my elected service in the state Assembly and state Senate," said Nozzolio, whose Finger Lakes Region senate district includes much of the same territory served by university founder Ezra Cornell while he was a state senator.
"The education I received while a student at the ILR School was a wonderful experience, and many of the lessons M.P. Catherwood taught me, I carry with me to this day."
When discussing his time at ILR, Nozzolio reflected on a conversation he had with an alumna who mentioned it was too bad that his education did not apply to his career as a legislator. To the contrary, Nozzolio responded, noting that he uses skills first developed at ILR, such as negotiation and bargaining, virtually every day in the New York State Legislature.
The combination of his practical and theoretical education at ILR was the platform that changed his worldview and helped direct him to what would become his life's work.
"Like most, I didn't know when I entered Cornell exactly what I wanted to do. But, that's the beauty of Cornell and the ILR School, it furnishes you with the opportunity to be exposed to so many different endeavors of learning that it's only up to you and your ambitions and interests to pursue those courses of study. That is the beauty of Ezra Cornell's vision, and to me that tremendous opportunity is one for which I am eternally grateful."
Related Destination
Changing the Status Quo - Carlucci '02 part of Independent Democratic Conference