Amy Chin BSILR '11, Shares Interesting Experiences from Nepal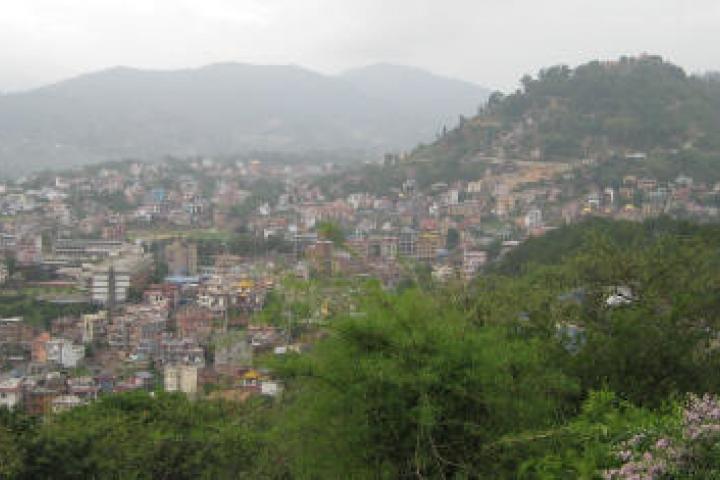 This summer I had the opportunity to conduct research for two months in Kathmandu, Nepal. It was the first time I had ever traveled alone. I had no one to turn to when my flight was delayed, no one to complain to when my luggage was lost, and certainly no one to help me out when I was ripped off by taxi drivers. But when I look back years from now, I won't remember the peddler who sold me overpriced souvenirs or the many times I got lost getting to work. I'll remember cheering for Argentina while watching the world cup with my host-family, eating Newari chicken that was too spicy for me to finish, the Maoist protests that halted traffic and so much more.
When I arrived in Kathmandu, I did not quite know what to do. I was to conduct independent research in a country that I was not familiar with, in a language I did not speak and in a place with no streetlights or street signs. I intended to do a pilot study for my Fulbright application on the approaches different NGOs were using to help self-employed women. I wanted to do a survey of the NGOs practices, results and strategic philosophies for improving the standard of living for self-employed women in the informal sector. My project changed as my Fulbright proposal evolved into looking at the relationship between family planning and female labor force participation. Because of that alteration, I shifted my investigation to examining family planning organizations, population and fertility projects and trade unions.
I began interviewing past and current experts that consulted or worked for the United Nations Population Fund (UNFPA). They gave me an overview of the major issues affecting population, fertility and family planning in Nepal. Many of the economists, anthropologists and sociologists I spoke to were actually Cornell alumni who now work and live in Kathmandu. The world certainly felt smaller after meeting with them. To see how family planning related to employment I also visited several labor related organizations. For example, I interviewed the director of the Association for Craft Producers to gauge the attitudes and responsiveness of women already in the labor force toward family planning practices.
Finally, I interned at Family Health International (FHI)/USAID. Initially I thought I would be placed on a project that dealt with contraception or reproductive health education, but USAID has been focusing more on HIV/AIDS research and prevention due to increased sex trafficking in Nepal. At FHI/USAID I analyzed Integrated Biological & Behavioral Surveillance Surveys to explain the decline of HIV among Intravenous Drug Users. I worked with the epidemiology arm of the organization to understand what caused the decline. The experience was something very new and exciting.
During the duration of my trip, I also participated in the New School's summer International Field Program (IFP) with a group of ten graduate students finishing their masters in international affairs. Through this program, I was able to attend amazing panel discussions and debates involving the top scholars and politicians in Kathmandu. I listened to lectures on federalism, constitution writing, water resources and many more. The program really put everything I was experiencing living in Kathmandu into context.
Life in Nepal was definitely not easy. With six to nine hour power outages every day, polluted rivers and rampant poverty, Kathmandu was certainly not the ideal place to spend a summer, at least on the surface. Yet the people, its fusion of cultures and beautiful landscape made Nepal all worthwhile. True to its name, my grant to travel to Kathmandu certainly gave me an international experience and much, much more.