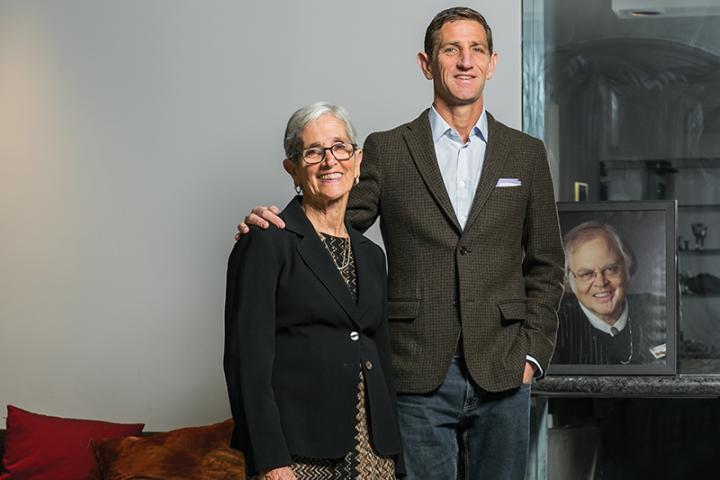 Bob Strudler '64 lived a life of remarkable accomplishment despite, and perhaps because of, challenges that lay in his path.
These obstacles began early for Strudler, as he contracted polio the summer before he turned six and didn't attend school until the seventh grade.
Instead of holding him back, that childhood experience gave him a profound appreciation for education and galvanized his drive to succeed.
That led Strudler to a full scholarship to ILR. The summer of his junior year, while working at the Nevele Hotel in his hometown of Ellenville, N.Y., he met a fellow camp counselor, Ruth, who would become his wife.
"ILR's small size was perfect for him," Ruth said. "The environment at Cornell afforded him the opportunity to grow not only as a student and scholar, but also as a person. It taught him to think. It opened up his world."
After earning a law degree from Columbia and practicing law in New York City, he was offered the position of vice president at U.S. Home. There, he rose to senior vice president, president, chairman and CEO.
In 2000, Strudler led the company's acquisition by Lennar Corp., becoming COO of the nation's largest homebuilder. In 2005, he was named Lennar's chairman of the board, a position he held until his death a year later.
"Having survived polio, Bob had an incredible reverence for life and for living each day to its fullest," Ruth said. "If he put his mind to it, there wasn't anything he couldn't do, except perhaps run."
The Strudlers had three children, two with special needs.
Born of that experience, they established the Foundation for the School for Young Children — rescuing, and then growing the school. It was originally housed at the University of St. Thomas, in Houston, where Ruth was a professor and dean of the School of Education.
The foundation also established the Robert J. Strudler Diagnostic and Remediation Center for children and adults with learning disabilities, which Ruth oversees.
"Bob was the most generous person I've ever met," Ruth said.
Mirroring that generosity, in 2013 the family established the Robert J. Strudler Scholarship for first-generation students at ILR.
The Strudlers' second son, Keith, A&S '92, director of the School of Communication and Media at Montclair State University, is working with ILR faculty and staff on a fall event featuring sports industry leaders.
"This is exactly what my dad would have wanted — to allow students, who otherwise wouldn't have had the chance, to experience ILR and have these great opportunities," Keith said.
"He would have been very proud to know that his name will live on in perpetuity at Cornell."