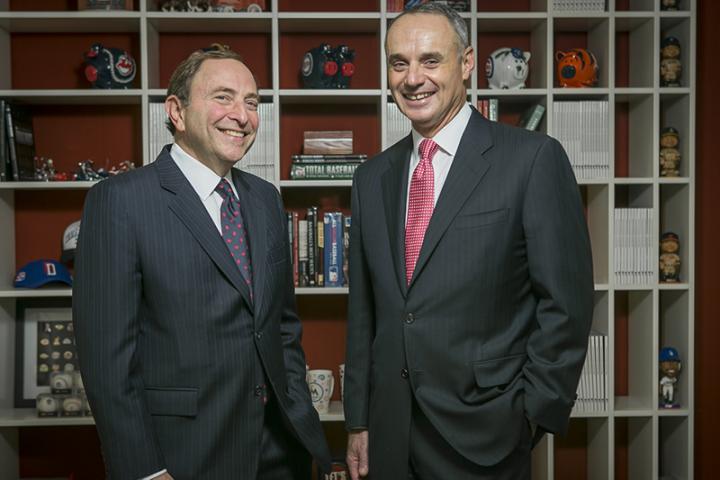 Nearly 300 ILR and Cornell alums shaping today's sports world are gathered today to discuss some of its hottest topics and to celebrate Big Red's impact on the industry.

The Cornell ILR Sports Leadership Summit includes sessions featuring long-time industry influencers. They include National Hockey League Commissioner Gary Bettman '74, Major League Baseball Commissioner Robert D. Manfred, Jr., '80, Tracy Dolgin '81, former CEO and president of the YES Network, Mike Levine '93, co-head of CAA Sports, and JoAnn Neale '91, chief administrative officer of Major League Soccer.

An estimated 500 Cornell and ILR alums hold top leadership positions in sports.

The event has drawn the newest generation of industry professionals, people such as Robbie Cohen '13, along with current students active in the ILR Cornell Sports Business Society, which is a training ground for many aspiring to sports management careers.

Events featuring networking and talks by sports professionals, along with opportunities to manage the club's blog, radio show and magazine, help many students prepare for careers in sports or in parallel industries that open doors to sports management.  

Manfred endorses the value of a Big Red education as part of the path to pro sports management.

"My experiences at Cornell instilled in me a foundation to pursue many of the goals of our game beyond labor relations, from youth engagement to technology," he said in an interview.

"The people-centric curriculum, innovative solution finding approach, and civic engagement principles of ILR have been extremely beneficial in the various capacities in which I have served Major League Baseball."

Cohen was passionate about sports when he arrived at ILR as an undergraduate.

The curriculum helped nurture his dream of a sports career, and the Sports Business Society gave him leadership experience – he served as its president his senior year and vice president his sophomore and junior years – and chances to network with industry veterans.

A particularly memorable club event for Cohen was a talk via Skype by Cornell alum Mike Levine '93, co-head of CAA Sports, a division of Creative Artists Agency, known as CAA.

CAA Sports has completed more than $3.5 billion in new sponsorship business on behalf of its clients and activates on more than $2.5 billion annually in sponsorships rights deals on behalf of leading global brands.

"This is what I want to do," Cohen recalls thinking during Levine's talk.

A month after graduating, Cohen began working for the agency as an intern. Now, he is an executive within CAA Sports Consulting, a division of CAA Sports.

During televised National Football League games, you might have seen headsets on football coaches and players on the sidelines. That is the type of high-profile exposure Cohen and his colleagues at CAA Sports Consulting orchestrate on behalf of brand clients like Bose.

He and the team also help manage JPMorgan Chase's partnership with the U.S. Open, including benefits and exclusive access for Chase cardholders and other consumer engagement initiatives.

"We help our brands make an impression on consumers," he said, and that entails being conversant with the latest technological and cultural trends.

Leadership roles held by Big Red alums have made an impression on the sports business, Cohen said, and the gathering in two weeks at the Westin New York Grand Central in Manhattan will underscore that.

"It's huge. It further illustrates how Cornell and ILR have contributed to the sports industry."

Thirty members of the ILR Cornell Sports Business Society are participating in todays's sports summit.

Co-president Ben Gilman '18, said, "We see the summit as the culmination of our incessant goal to connect alumni with students in the hope that professionals will be able to help our members identify certain skills and paths that can help them succeed in such a competitive
industry."

The organization, which for years has helped connect undergraduates with internships in professional sports, sponsors a blog, a magazine, a radio show and a speaker series that features some of the biggest names in sports.