Message from Dean Kevin Hallock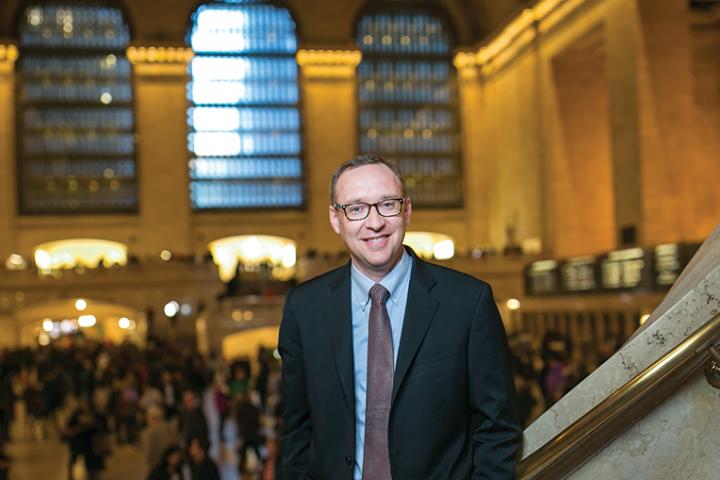 ILR has had an unwavering presence in New York City for seven decades. Our commitment to the state is part of our DNA, and our presence in New York City is fundamental to our mission and has been since our founding.
Thousands of our alumni, staff, faculty and even current students impact the working lives of people in NYC and beyond through teaching, research and outreach activities.
That's why much of this Advance issue highlights ILR people and programs in New York City, where Cornell Tech's rise on Roosevelt Island reminds us that technology is revolutionizing the way people live and work.
To keep pace with the world of work, thousands come through ILR's doors in midtown Manhattan every year to learn about diversity and inclusion, labor, law, leadership, human resources, conflict management, the future of work and many other issues.
I've been on the Campus-to-Campus bus between Ithaca and New York dozens of times since becoming dean in 2015. This isn't because I like bus rides (although each leg offers four hours of uninterrupted work!); it's because so many business and union leaders, legislators, ILR alums, parents of students and others who inform my work as dean are based in New York.
Of course, the ILR community extends well beyond Ithaca and NYC; we have remarkable alumni all over the world. For example, in this issue, we talk with Janice Roomkin and Myron Roomkin '67 of New Mexico. Their generosity is making an enormous impact on ILR as it helps the world of work adapt to new challenges, no matter the location.
Upstate, downstate and around the world, ILRies and our school are shaping the future.
It's critical to keep pace with change, but it is also important to be healthy while doing that. It's central to me that ILR prioritizes the wellbeing of its students, staff and faculty. To that end, we just launched a search for an assistant dean for HR, reporting directly to me. ILR will be the only college at Cornell with such a structure.
This presents us with an excellent opportunity to practice what we teach and create a model workplace in higher education and beyond.
We would love to hear your thoughts and suggestions about this instrumental new position.
Until then, please, take care of yourself and look out for others.