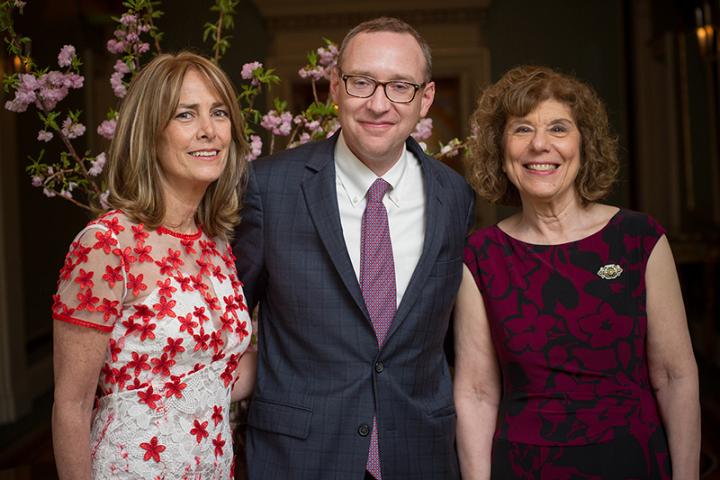 ILR honored two of its most prominent alumni at the Groat and Alpern Awards Thursday in New York City.
Professor Francine D. Blau '66 received the Judge William B. Groat Alumni Award and Joanne Restivo Jensen '84 received the Alpern Award from Dean Kevin Hallock at ILR's signature event, held annually at The Pierre.
The awards are presented to ILR alumni who have not only profoundly served the Cornell ILR community, but who have impacted the world.
Managing director and private banker at Deutsche Bank Wealth Management, Jensen told the crowd of 350-plus that her relatives included garment workers, bricklayers and steamfitters.
"Their workplace environments were exactly what we studied" at ILR, she said. "I am certain that my grandparents, aunts and uncles would appreciate the fact that there was a school that was so interested in advancing the work environments that they were struggling through."
Jensen, a first-generation college graduate, said while guiding her daughters through the college application process, she realized how "foreign" the process was for her own parents.
"My mother was a secretary and my father was first a barber, as his father was, and then a police officer. They were limited by their own education, knowledge and financial resources," Jensen said.
Her parents' hard work and the school's land grant status, which resulted in lower tuition, made Cornell a possibility and allowed her to "break out of our socioeconomic status."
"It was a gift of love and a future that completely changed my life and gave me the confidence to strive for achievement and watch my professional career," Jensen said.
Blau, ILR's Frances Perkins Professor of Industrial and Labor Relations and professor of economics, reflected on arriving at Cornell as a 17-year-old from Queens who had traveled outside of New York City only a few times.
"Cornell looked and sounded so distant, such a big adventure," said Blau said, who saw the university for the first time when she stepped off the bus right before freshmen classes started.
"In that small upstate New York town, I discovered the world. I discovered classmates from all over the state and all over the country."
"In my day, ILR was not only a male-dominated field, which would not be too surprising, there was also a quota on women in the ILR School," Blau said.
"It was not a quota saying that you had to have at least so many, but a quota of saying 'no more than.' There were only 15 women in my class of 90."
However, she said, "the faculty treated me wonderfully, and encouraged me," Blau said. "Since 1994, it has been a privilege to teach ILR undergrads and I really need no more award then that, but I am very happy to take this award anyways."
The Groat Alumni Award has been presented since 1971 and is named after Judge William B. Groat, who played a pivotal role founding the ILR School in 1945.
The Alpern Award was established in 1997 in honor of Jerome Alpern '49, MBA '50, who attended Thursday.