ILR Review Special Issue Set for May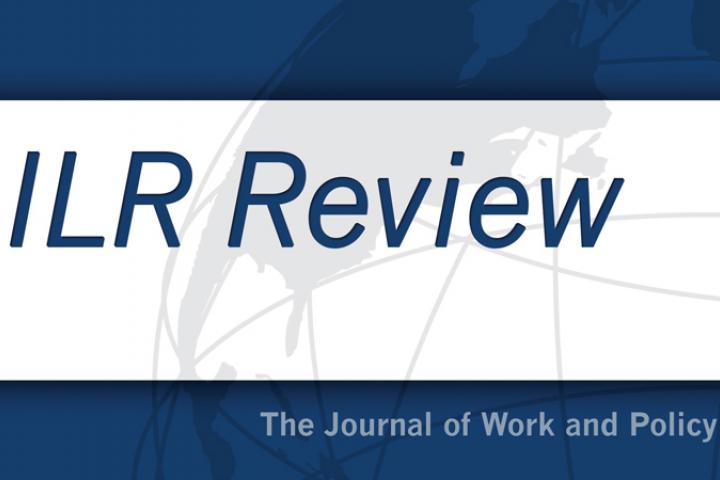 The ILR Review will publish a special issue focusing on new theories in employment relations. ILR Dean Alexander Colvin, Ph.D. '99, Associate Professor Virginia Doellgast and the Wharton School's Matthew Bidwell are guest editors for the issue, as well as co-authors of a comprehensive introductory piece. The issue features eight empirical articles, a commentary section of essays by invited scholars and one book review symposium, which has invited essays focused on the same recently released book. 
In the journal's introduction, the guest editors "summarize the history of employment relations theory and reflect on the implications of recent disruptive changes in the economy and society for new theory development." The trio identifies three changes:
the growing complexity of actors in the employment relationship,

an increased emphasis on identity as a basis for organizing and extending labor protections,

the growing importance of norms and legitimacy as both a constraint on employer action and a mobilizing tool.
The articles advance new frameworks to analyze these changes and their implications for the future of employment relations.
Included among the articles is "Relational Exchange in Non-union Firms: A Configurational Framework for Workplace Dispute Resolution and Voice," written by Ariel Avgar, associate dean for ILR Outreach and associate professor at the ILR School.
Avgar addresses how dispute resolution has changed; the decline of organized labor means few in today's workforce have access to a union's grievance process.
In the absence of negotiated voice and dispute-resolution mechanisms to balance employer and worker interests, non-union firms have grappled with strategic decisions regarding how and when to provide workers with formal voice and dispute-resolution options, Avgar writes.
Avgar's article provides a theoretical framework that helps explain how non-union firms make use of dispute resolution and voice strategies. Each firm's approach is a function of distinct organizational features. Central to this theoretical framework is the argument that non-union firms experiment with a variety of different types of voice and dispute resolution combinations.
Other articles and features in the edition include:
"From Bread and Roses to #MeToo: Multiplicity, Distance, and the Changing Dynamics of Conflict in IR Theory" (Christine A. Riordan and Alexander M. Kowalski)

"Confronting Race and Other Social Identity Erasures: The Case for Critical Industrial Relations Theory" (Tamara L. Lee, MS '13, Ph.D. '16, and Maite Tapia, Ph.D. '13)

"Identification and Worker Responses to Workplace Change: Evidence from Four Cases in India" (Aruna Ranganathan)

"Fissured Employment and Network Bargaining: Emerging Employment Relations Dynamics in a Contingent World of Work" (Mark Anner, Matthew Fischer-Daly and Michael Maffie)

"How Do Employers Choose between Types of Contingent Work? Costs, Control, and Institutional Toying" (Chiara Benassi and Andreas Kornelakis)

"Rethinking the Role of the State in Employment Relations for a Neoliberal Era" (Chris Howell)

"The Social Organization of Ideas in Employment Relations" (Glenn Morgan and Marco Hauptmeier)

"Commentary on New Theories in Employment Relations" (Invited essays by Janice Bellace; Andrew Minster, Karen Scott, Erin L. Kelly and Thomas A. Kochan; Mari Sako; and Bruce E. Kaufman)

Book Review Symposium: No Longer Newsworthy: How the Mainstream Media Abandoned the Working Class. (By Christopher R. Martin. Invited essays by Michael Hillard, Erin Brooke Duffy, Phela Townsend, Steven Greenhouse and Christopher R. Martin.)
The issue is available online now.