"Everything Came Together"
Legendary NFL coach Vince Lombardi once famously said, "Football is a game of inches and inches make the champion." But, ask anyone who has ever stepped on a field, a sheet of ice, a court or a track and they will tell you that the "inches" are not limited to football.    
For Big Red Hall of Famer Rayon Taylor '07, it was exactly 8½ inches – the width of a standard piece of paper – that handed him the 2007 NCAA championship in the triple jump, making him the first Cornell track and field athlete to win a national title since Charlie Moore did so in 1951. Taylor took the title in style, posting an Ivy League record jump of 53-8 ½ inches, besting the national runner-up, Andre Black of Louisville, who leapt a distance of 53-0.
"All good athletes need to have an unstable amount of irrational confidence," said Taylor. "I felt super, super confident going in. But if I had a gun to my head, I would have said there's also the guy at Arkansas and he could easily win it, or the guy from TCU could win it, or the guy from USC could win it."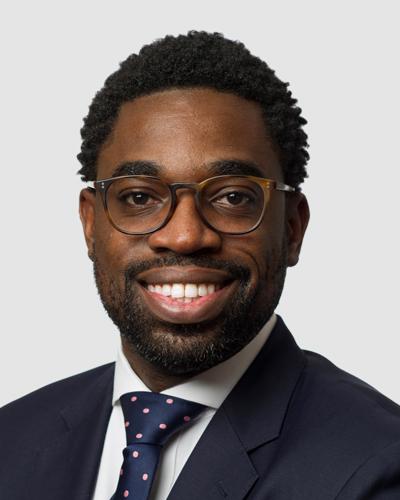 Taylor knew that he had the ability to win, but just a few months before the pinnacle event of his collegiate career, a teammate accidently dropped a weight on his foot. Taylor spent months wearing a protective boot as he recovered from a deep bone bruise. The injury was just the latest in a long line of frustrations for Taylor, who had his freshman year wiped out due to injury, and had learned earlier in his senior season that – despite having an extra year of eligibility, – Ivy League rules would not allow him to return to compete for Cornell for a final season.  
"I made it through the opening rounds quite easily, but my knee was killing me," Taylor said as he recalled the championship event. "But I thought these are going to be my last six jumps of my college career, so just go for it. I jumped as hard as I could, and everything came together at that moment in time.
"One of my teammates actually recorded it and you could tell the minute I landed in the sand that I knew, because I popped up and just started screaming. I could feel it and it was overwhelming. I could remember looking at my foot in the boot. I could remember coaches saying, 'There's no way I can convince them to have you come back next year to compete.' So, it was all those things rushing through my head in the moment. So, in my heart I knew I could win it, and I felt it, but there were just so many stumbling blocks along the way, which made it actually coming together that much more impactful for me."
With a national championship to his credit and an extra year of eligibility at his disposal, Taylor began rethinking the full-time job he had lined up at Goldman Sachs. He decided to defer the position for a year to attend Florida State University as a graduate student and to continue to train as he vied for a spot on the national team of Jamaica, where he was born, in advance of the 2008 Olympics.
During his time in Tallahassee, Taylor was named a team captain, placed fourth in the triple jump at the 2008 NCAA outdoor tournament and helped the Seminoles to a national team title.
While the road to both the individual and team national championships was a bit rocky, Taylor has nothing but fond memories of ILR, a school he stumbled upon by happenstance after taking a recruiting trip to Yale.
Taylor was being recruited by the Bulldogs when one of the Yale coaches began speaking fondly of his collegiate coach – who also happened to have the last name Taylor – and was at that time the head coach at Cornell.
So, when Coach Taylor called to pitch the Big Red, the younger Taylor listened. 
In learning about the colleges and schools that Cornell had to offer, Taylor, the stepson of a New Jersey bus driver, liked what he heard about ILR.
"My stepfather was a big-time union guy," he explained. "He drove New Jersey Transit for almost 30 years and other than his faith and his family, it was the union. He always impressed upon me what the union meant in his life."
"So, when I went on the website and saw the type of stuff ILR was teaching, and at the time, I thought I was going to be a lawyer, so I thought ILR was really a natural fit."
Taylor credits his success at ILR to the size of the college and the relationships it allowed him to develop. He praises the personalized attention he received from the professors, and the fact that he was able to forge a relationship with Professor Harry Katz, then dean. He also credits his student-worker job in ILR Career Services for opening his eyes to a wide range of options outside of practicing law.

"What ended up happening with me was because of my role in Career Services, I got to understand that these companies, like Proctor and Gamble and Deloitte, had so many different divisions and so many different departments that at some stage, I started realizing that it makes more sense for me to be a little more diverse in terms of what it is that I want to do. So, I took Anu Lyons' advice and ended up taking an internship within financial services, and it was really more of a fact-finding mission, but I wanted to give it a shot and I ended up liking it."
When Taylor finished his time at Florida State, he reconnected with Goldman Sachs before moving onto J.P. Morgan. While there, he volunteered for a three-to six-month project in London. Nine years later, he's still there, but now with Blackstone, the largest alternative investment firm in the world.
"If I compare what I'm doing now to what I was doing when I first started working with Goldman, it's wildly different," Taylor said.
"So, my advice to others has always been to make sure that you're developing skills that can cut across time, sector and themes. I've grown up a lot within the finance world, but a lot of the things that I learned in ILR's organizational behavior class, or labor history class, still resonate."
"At the end of the day, I'm not the typical ILR track. I'm not an HR professional, I'm not working in organizing, I'm not working in law, but all those skills are so transferable across different areas in different sectors that the diversity in thought that I bring to the table is very, very different than somebody who went to the Wharton School and only studied finance."