Grants Provide Opportunities for ILRies
One of the best ways college students can build their resumes is through summer internships. Unfortunately, with many internships being low-wage or unpaid, it can put financial burdens on students, or preclude some from taking an internship.
To help ease that burden and make internships more accessible, ILR students can apply for the Melvin H. Osterman Internship Award or the Chaim and Ida Miller Award. This past summer, four students – Oliver Eccleston '21, Wei Ting Chao, MILR '21, Daniel Kirchner '21 and Dana Trentelage, MILR '21 – were awarded summer stipends.
The Melvin H. Osterman Internship Award was established by Osterman's widow and law partner, Norma Meacham `74, Law `77, and his colleague, Rosemary Townley. Osterman graduated from Cornell's College of Arts and Sciences in 1955 and the Cornell Law School in 1957. The fund is open to eligible students interested in public sector labor relations.
"I was a student who essentially was without any resources as an undergraduate," said Townley, an independent arbitration and mediation lawyer for the past 30 years. "Despite being awarded a full scholarship that required finishing my bachelor's degree in three years and four summers, and teaching in a Catholic school for one year thereafter on a small stipend, I worked full time while I attended college to help support my family. If I had enjoyed a professional internship in my field during that time, it would have provided me with a real-world experience to give meaning to the coursework.
"It is no secret that the opportunities in the public sector provide a wide range of careers that may be unavailable in the private sector. And, that the salary and benefits that accompany those public sector opportunities are usually not as fulsome as those in the private sector. In establishing the Osterman Grant, we are able to help a student who is committed to serving the public sector through securing a Cornell ILR degree."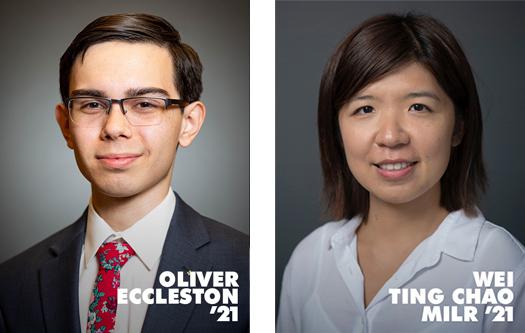 This year's recipient, Oliver Eccleston, worked as a research assistant for the California Department of Human Resources within its Labor Relations Division. While there, he was able to observe negotiations with California's public-sector unions, research new legal developments stemming from Public Employment Relations Board holdings, and interview the state's leading professionals currently handling the labor relations implications of the current recession and pandemic.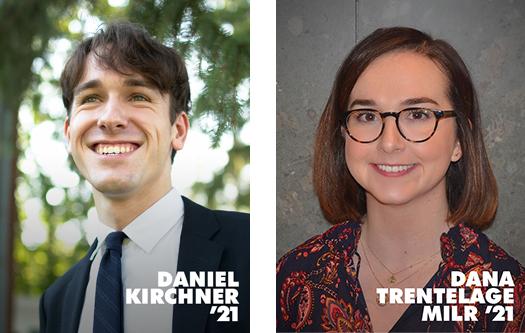 In addition to the internship being a robust learning experience, the funds Eccleston received also allowed him to help support his family.
According to Eccleston, "The availability of paying jobs in Los Angeles for current students has been extremely lacking, so obtaining an opportunity that was both funded and professionally beneficial was incredible."
Meacham added, "Melvin Osterman was my husband, my friend, my mentor and my law partner. He also was someone who believed in the power of hard work and the dignity of all people. He certainly could be irreverent and could find humor in almost any situation, but he was very open about helping people. He loved the field of law and labor relations, but especially the public sector. Melvin would have been very touched that an internship was set up in his name to help a student work in the field of public sector labor relations. I hope that we are able to find future opportunities that continue this year's grant."
The Chaim and Ida Miller Award was established by Marcia Miller and her brother, Gerry, in honor of their parents. The fund is open to eligible students who have secured an internship with a labor organization, are involved with organizing or labor education, and would not be able to accept the internship without this aid.
"The Chaim and Ida Award has now been a part of our family for decades," said Zak Green '93. "Ida, my late grandmother, was in the first graduating class at ILR, certainly no small feat for a woman in those days! She was truly before her time and the concept of both protection and representation for workers was something that was always incredibly important to her and to Chaim, who was involved with the children's clothing union.
"I am moved when I think that 50 years after my grandmother, I graduated from ILR, as well. Besides being an amazing education and stepping stone to my own career in finance and entrepreneurship, it feels even more special to be able to draw that line across three generations."
Serving as a program intern at China Labor Watch, Wei Ting Chao followed Chinese websites to look for labor issues shared online by workers. She collected labor violation cases and determined if there were ways to intervene. Chao also collected information such as minimum salary in different provinces, the names of detained labor activists, and relevant Chinese workers' reports, for the organization to use in the future.
Daniel Kirchner was a research intern with Amazonians United where he helped the research team develop a more comprehensive view of how Amazon functions as a corporation. His main research project focused on Rekognition, Amazon's facial recognition software. Kirchner drafted a research paper and presented it to union leaders to help familiarize them with the technology.
With internships being conducted remotely due to COVID-19, Dana Trentelage was able to work for a pair of organizations.
As a policy intern for The Appalachian Citizens' Law Center, she tracked and analyzed the efficacy of funding streams originating from the Partnerships for Opportunity and Workforce and Economic Revitalization Initiative. Additionally, she worked on a community organizing research project to recommend best practices for the organization to effectively engage current and former coal miners in public policy decision-making processes.
Trentelage was also an intern for the Tompkins County Workers' Center, where she helped develop resources to assist workers during the pandemic. She also documented and resolved unemployment insurance issues and wrongful termination claims related to the workplace.
All three recipients credited their grants with allowing them to gain valuable work experience.
Kirchner said, "The Chaim and Ida Miller Award allowed me to pursue an internship at such a radically new union in the labor movement with the support I needed for food and housing.
"Especially with the COVID-19 pandemic, the award made it possible to be secure and continue my involvement and hands-on education in the labor movement."
"I was able to become a part of a huge unionization effort in the country, and the world, and learn new research and organizing skills during my time at Amazonians United. The support given to labor students at ILR makes a huge difference in our activist education and, as such, I am very grateful to have been awarded the Chaim and Ida Miller Award."